1000A Peak Current Car Jump Starter Power Bank 12v Emergency Car Battery Charging Units Booster Multi-function Car Jump Starter
Overview
Details ...
Details
Special Features
SOS Lighting,Cigarette Lighter Starter,USB,Lighting
Number Of Built-in Batteries
3
Battery Capacity(mAh)
12000-18000
Brand Name
CAR ROVER
Conversion Rate
>90%
Voltage
12V
External Testing Certification
CE
Item Weight
1.32
jump starter
portable starter battery
car jump starter
car battery jump starter 12v
power bank
car battery jump starter
portable car battery charger
multifunction car battery jump starter
portable starter battery
portable car battery jump starter
power bank 12v
emergency car battery jump starter
car battery
car battery jump starter
booster
jump starter diesel
mini jump starter power bank
jump starter power bank for car
Unit Type
Set
Package Size
10cm x 12cm x 13cm (3.94in x 4.72in x 5.12in)
Package Weight
1.32kg (2.91lb.)
1000A Peak Current Car Jump Starter Power Bank 12v Emergency Car Battery Charging Units Booster Multi-function Car Jump Starter
 Please tell us which Plugs you need (US/EU/UK/AU) 
Spotlight:
Super Capacity of 14800 mAh Battery, Start Petrol Cars 6.0L or Below, Start Diesel Cars 3.0L or Below.
With Battery Balance Monitor, More Fashion and Convenient.
With Power Shut Off Switch, Can Lock Power for 3-6 Months.
With Plastic Box, Easier For the Storage.
A Must and Reliable Need For Your Long Way Traveling.
Overcharging protection; Current overuse protection; Over voltage protection; Over current protection.
14800mAh Car Jump Starter * 1pc
Cellphone connecting cable * 1pc
Laptop connecting cable * 1pc
Different Laptop Adapter Connector  * 8pcs
Plug AC Power Adapter* 1pc
User Manual (English) *1pc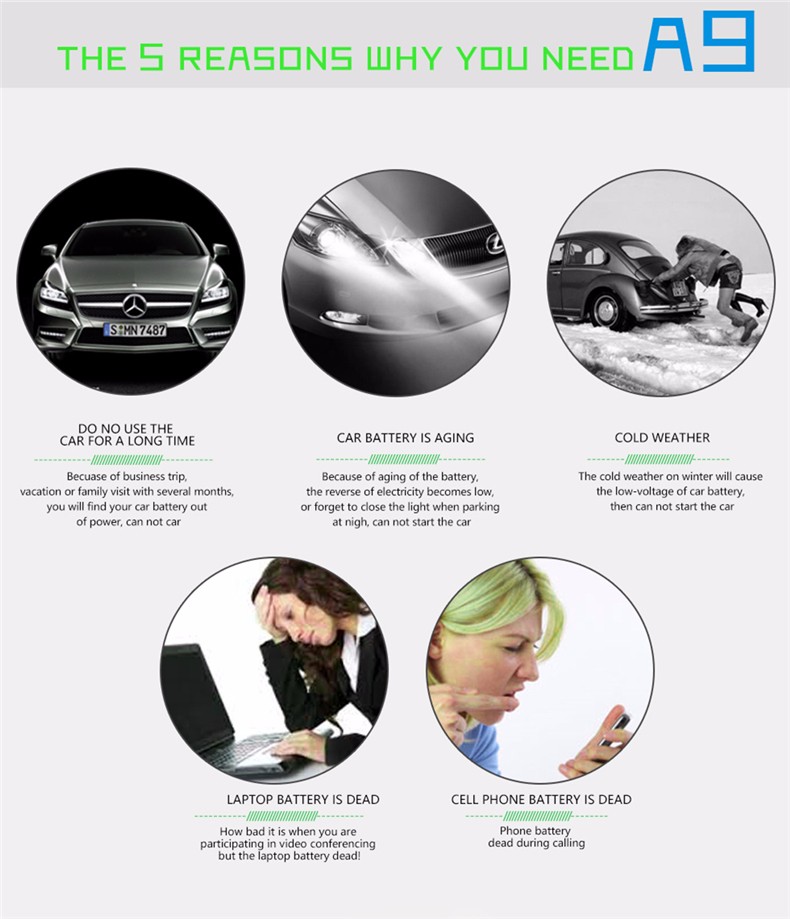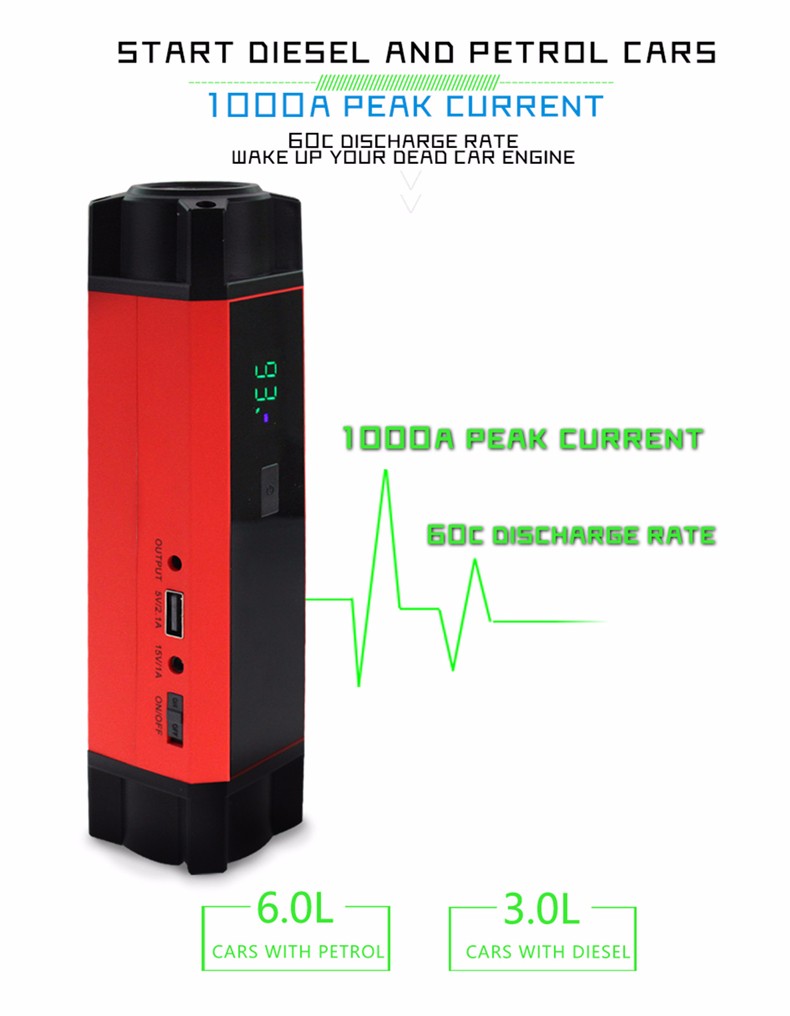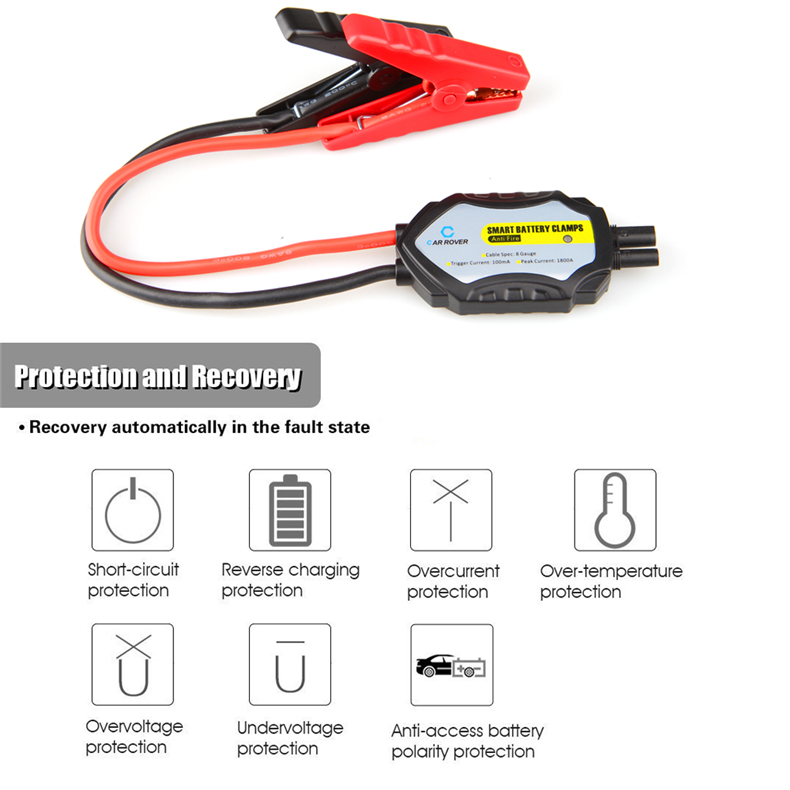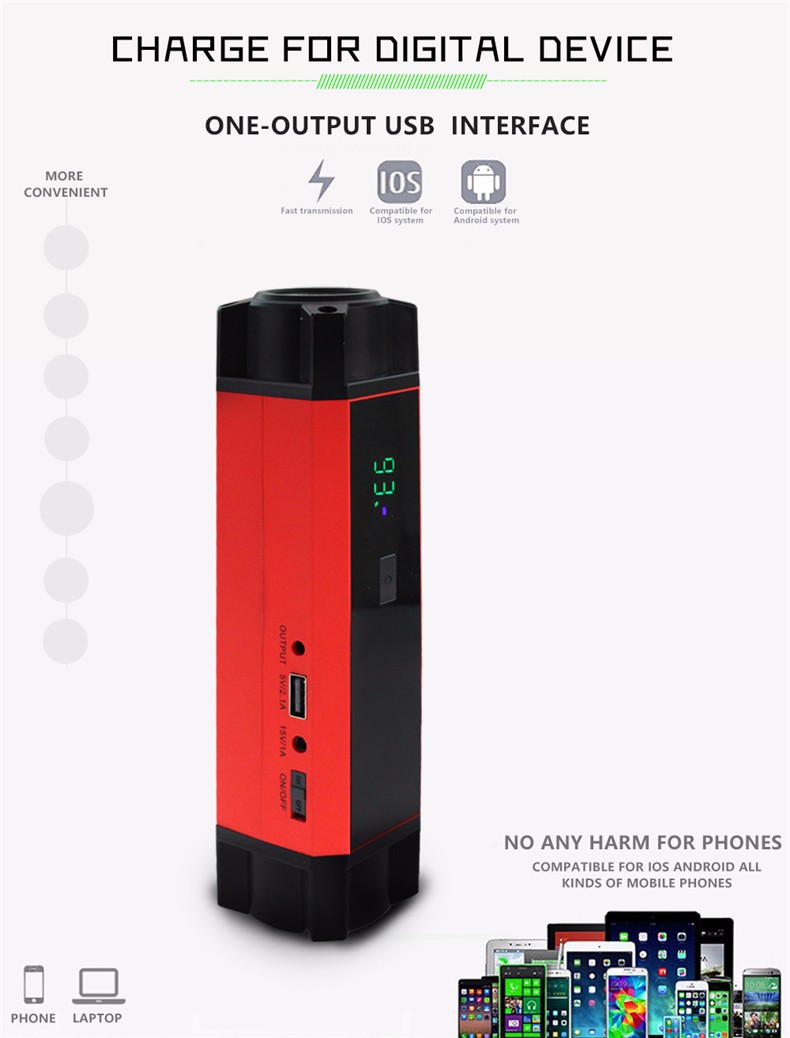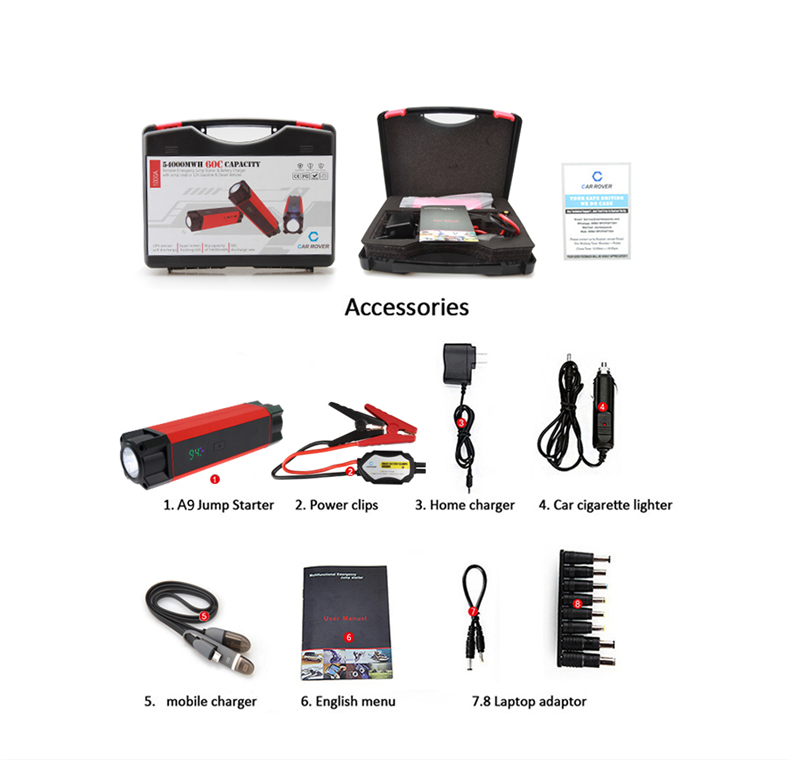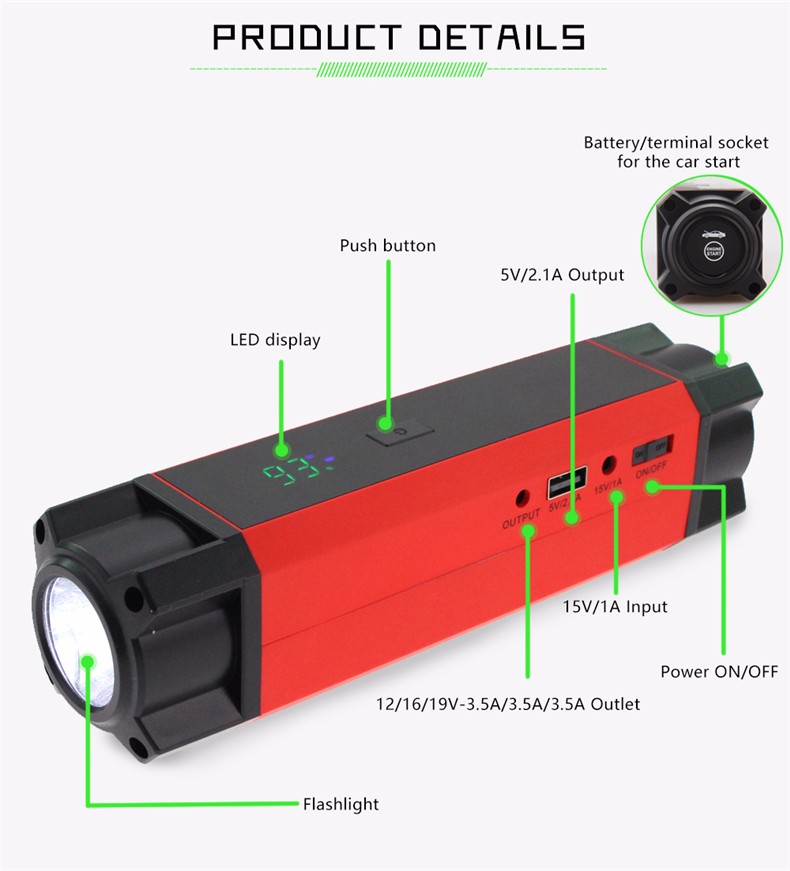 Features:
Charging for mobile phones and laptops, starting cars, adjustable LED lights (torch, strobe lights and SOS lights).
Variety of chargers and jump lead that can give your car and your products the extra energy they need.
It supports vehicles with 12V voltage or more, to start your car, firstly you should connect the power bank with the battery holder and then connect the negative and positive connectors of the holder with your car battery.
Instructions for use:
1. Select the appropriate voltage and connector for the electronic device to charge / power supply.
2. Press the switch to start charging when your device connected with the power bank. If you unplug the cable, auto-sleep will start in one minute.
3. LED lights will flash circularly during the charging and all lights will keep bright when your device is full-charged.
4. During charging for your device, LED lights indicate the balance power of the built-in battery.
5. Press the switch five seconds to start If you want to use LED for illumination and select the status (light, strobe, SOS, close) by pressing the switch to transform.
6. Store the product in a cool and dry place and away direct sunlight.
Cautions:
1. Do not reverse the operation sequence of the jump starter.
2. Do not use jump starter to start vehicle if the number of battery indicators are less than 2 to protect the jump starter from damage.
Specific:
- Battery capacity: 14800mAh , 54000mWh
- Output: 12V/16V/19V, 3.5A
- Output Voltage at auto start:12V
- Output Voltage at Laptop : 19V
- Charge Mode: CC/CV 15V-1A
- Applicable temperature range: -20-80 degree
-Charging time: 4-5 hours
Compatible vehicles:
UL Certified Safe:
Built with industry grade materials and premium circuitry, meets the rigorous safety standards of Underwriters Laboratories.
Compatible devices:
for iPhone, for Samsung, for HTC, for Nokia, for Motorola, for Sony, etc.
Compatible Laptops:
for Acer, for Asus, for Samsung, for Compaq, for Panasonic, for Lenovo, for Toshiba, etc.
Why need this:
 Normally, Car battery life span only 2 or 3 years, do not trust your car battery too much, 
Especially when you using car electric system without the engine start, battery consumption very fast and silently.