Hydrant button Conventional Fire hydrant button can work with any Input Module can work alone open pump button Manual button
$8.59
5 or more $8.91
200 or more $8.75
1000 or more $8.59
Overview
Details ...
Details
Model Number
1063
Brand Name
zoanco
is_customized
Yes
Unit Type
piece
Package Size
12cm x 15cm x 13cm (4.72in x 5.91in x 5.12in)
Package Weight
0.3kg (0.66lb.)
Hydrant button Conventional  Fire hydrant button can work with any  Input Module  can work alone open pump button Manual button
1.Fire hydrant button by input module access intelligent fire alarm controller, installed in public places, fire hydrant button monitor state without power consumption. The fire alarm, fire hydrant button is pressed, the alarm signal will be transmitted to the input module, input module through the bus by the signal transmitted to the controller Report
The police, the controller will display input module code addresses and display equipment status. At the same time, the passive output contact closure, start the fire pump controller through the intermediate relay or linkage can be. When the fire is red indicator light
Bright, receives the answer signal (DC5V ~ DC30V) when the green indicator lights always.
The structure design of the cover up and down, installation, commissioning, maintenance is simple and convenient.
The input module is connected with the intelligent fire alarm controller, which can be of several parallel use, must load at the end of the access terminal.
Fire hydrant button provides passive output contact, can directly control other external devices through the intermediate relay, such as fire water pump.
Fire hydrant button on the slices in the press after the availability of special tool reset, not broken, can be repeatedly used.
3.Technical parameters of product
Executive standard: GB16806-2006 1
2: to monitor the status of working current of 0 mA, the action state < 25mA (access JK-952 input module)
The 3 output contact capacity: normally open contact, 0.1A/30VDC
The 5 connection: two wire (TO+, TO-)
6 the use of the environment: indoor temperature of-10 DEG C, which is less than or equal to 95% DEG C, relative humidity (40 - 2 Deg. C without dew)
The 7 part: start repeated use type according to the film, after the start of available special tool manual reset
8 start mode: press the piece of artificial
The 9 indicator lights: Red start lamp, fire hydrant button is pressed Chang Liang
Green answer indicating lamp, fire pump running, fire hydrant button receives the answer signal lights
10 matching ways: by input module can be matched with addressing series controller etc.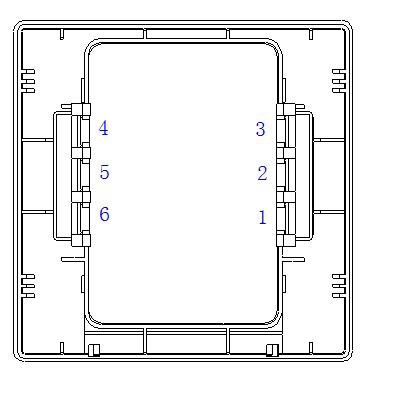 1 - signal access terminals (TO-)
2 - signal access terminals (TO +)
3 - normally open contact ( action and four closed end )
4 - normally open contact ( closed end action and 3 )
5 - answer signal positive terminal (LED +)
6 - answer signal negative terminal (LED-)